LIBOR Transition
What is the Impact of SOFR on Capital Markets?

By Mary Yiannouzis, Marketing Director
As the transition from LIBOR to SOFR gains momentum, regulatory agencies, market infrastructure firms and market participants are collaboratively working towards a seamless migration. SOFR has gained traction as a preferred alternative to USD LIBOR due to its robust underlying transactions and alignment with the overnight Treasury Repurchase Agreement (REPO) market.     
The transaction-based nature of SOFR is not only ensuring greater stability but also creating a surge in trading activity particularly in the OTC markets. Within the OTC markets, SOFR, OIS (Overnight Indexed Swap) trades rose in March 2023 as the banking crisis created volatility and SOFR was the most liquid source of interest rate hedges. The increased liquidity resulting from SOFR OTC trades, coupled with strong trading volumes in interest rate derivatives, futures contracts, and REPOs, is a testament to the success of this transition and the strengthening of capital markets. Volume statistics by Clarus1 show that by the end of 2022 there was a 350% YoY increase in SOFR USD Swaps ($60.5 trillion).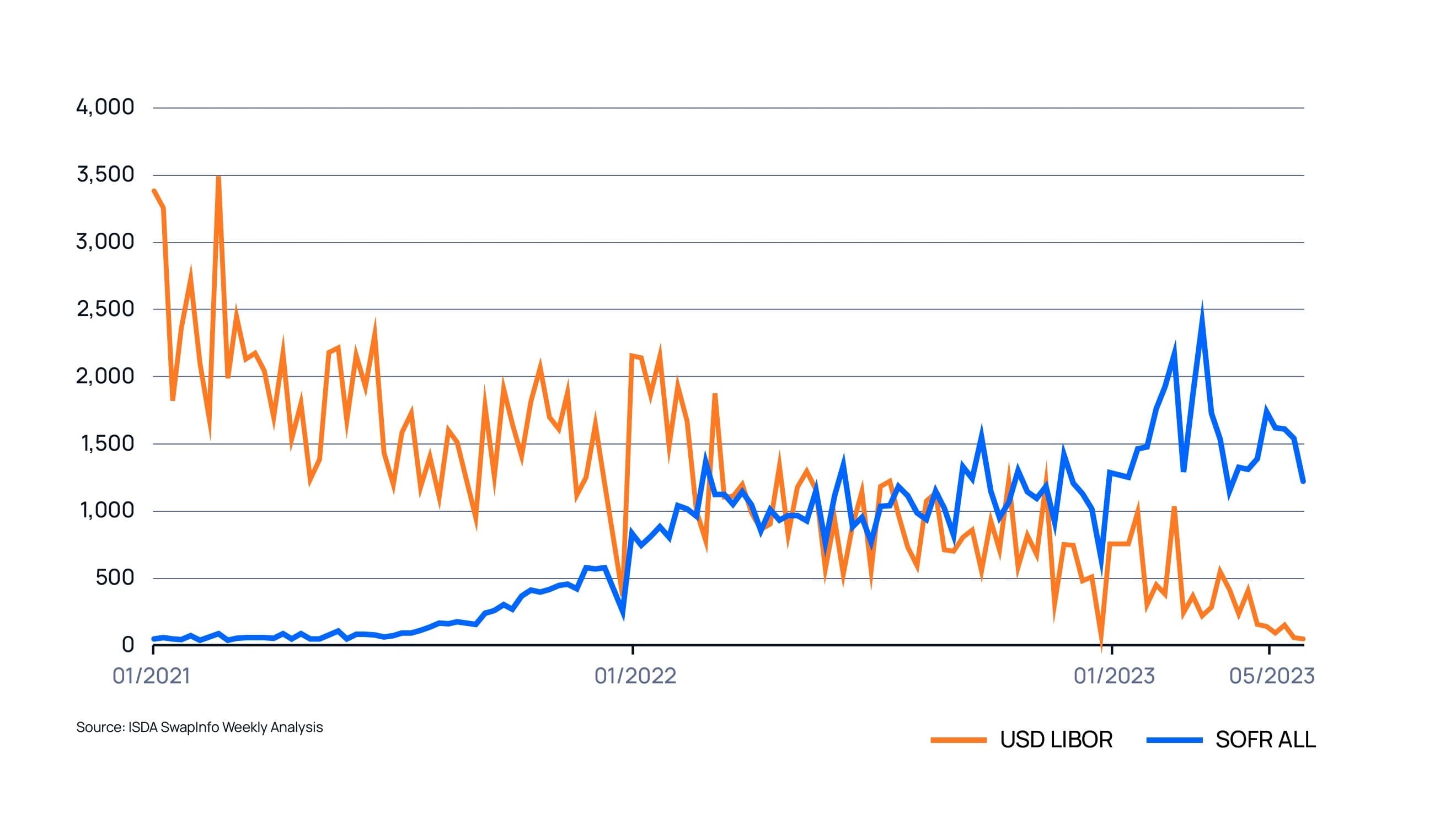 Benefits of SOFR to Instrument Trading
  The surge in trading volumes signifies a broader acceptance and adoption of SOFR as a reliable alternative to LIBOR. SOFR OTC trades bring multiple advantages to market participants. They promote enhanced price discovery, tighter bid-ask spreads, and reduced transaction costs. Additionally, increased trading volumes provide investors with greater confidence in executing trades and managing their exposures effectively.   Clarus' analysis of the SOFR market reveals that a significant portion of trading activity is concentrated in four primary instrument types: Outrights, Spread-overs, Switches, and Butterfly Instruments. These trades not only contribute to the overall liquidity of the SOFR market but also demonstrate market participants' growing confidence in the benchmark rate.  
According to Clarus SOFR Swaps in the IDB (inter-dealer broker) market trade primarily as Spread-overs to US Treasuries. This is the most frequently traded instrument, with the highest notional volumes and dv01 terms and as such are the most important in setting prices of SOFR Swaps.    
% D2D Trades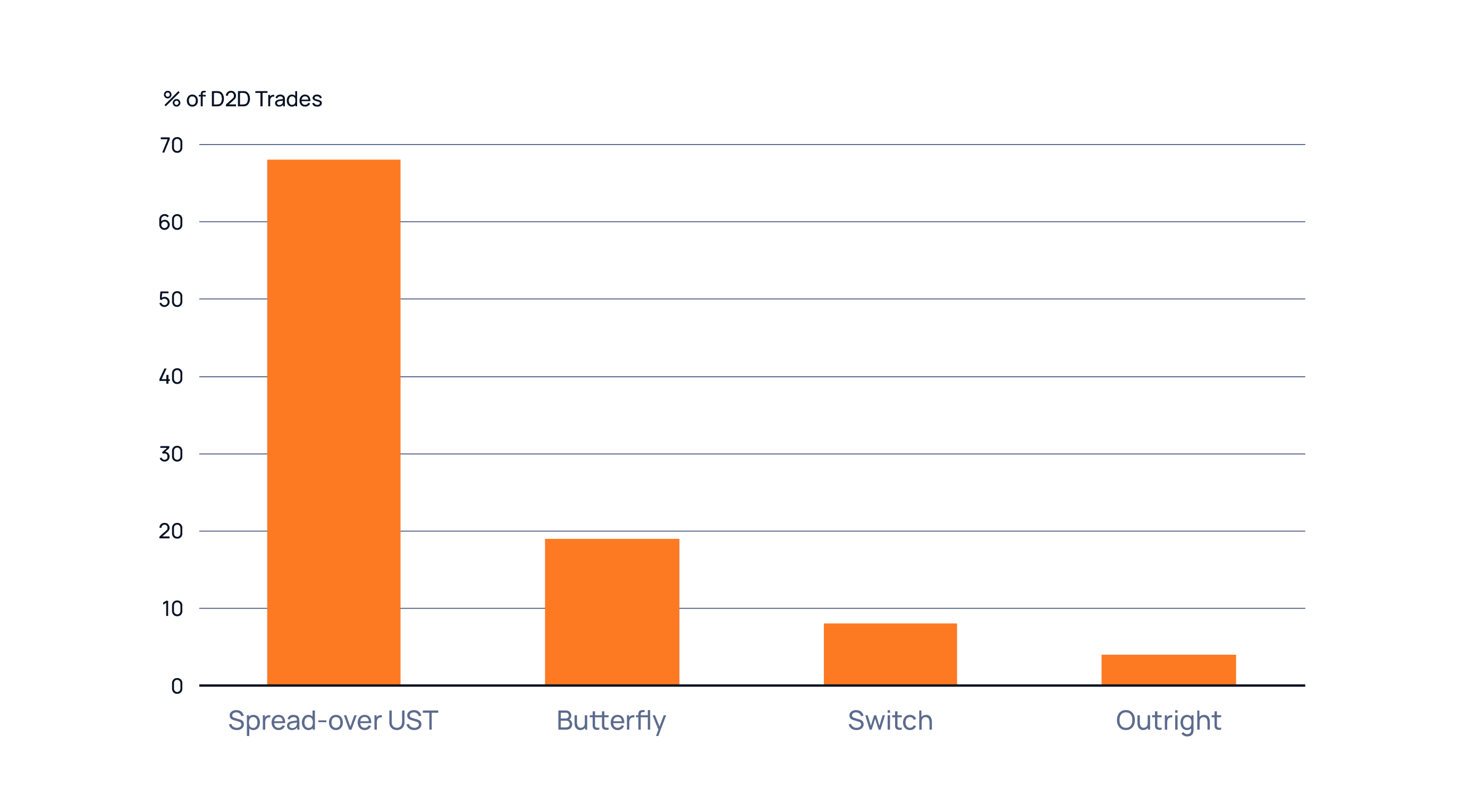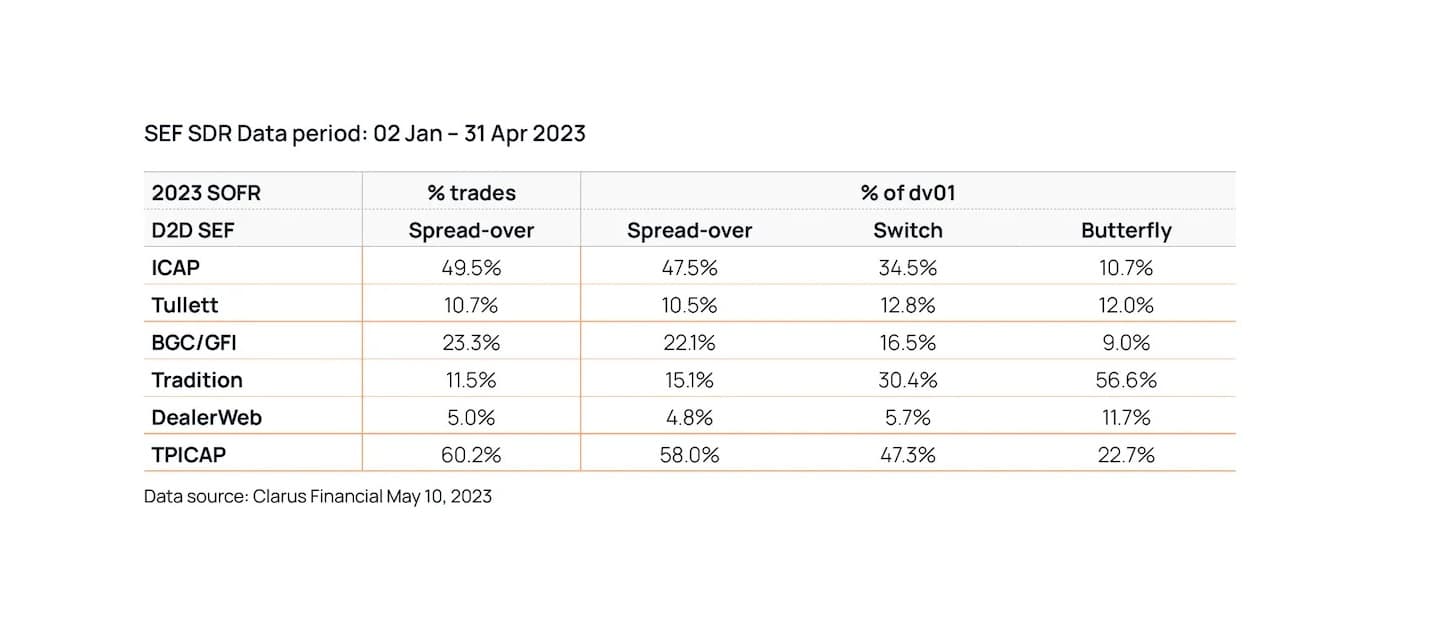 Glossary
DV01   The interest rate risk of bond or portfolio of bonds by estimating the price change in dollar terms in response to change in yield by a single basis point. 
SOFR SWAP TRADE TYPE 
Fixed rate risk transfer vs floating rate (SOFR), Bid/Ask levels quoted in bps spread to corresponding US Treasury benchmark issue. Prevalent in Dealer-to-dealer market. 
This represents 68% of D2D trades. 
Fixed rate risk transfer vs floating rate (SOFR). Bid/Ask levels quoted in bps spread of 3 distinct tenors. The shortest and longest maturity legs are traded in equivalent directions; the risk of the intermediate maturity leg is equal and opposite to the sum of the other two legs. 
This represents 19% of D2D trades. 
Fixed rate risk transfer vs floating rate (SOFR). Bid/Ask levels quoted in bps spread of the simultaneous purchase and sale of two distinct tenors. 
This represents 8% of D2D trades. 
OUTRIGHT 
Plain vanilla IR Swap trade – Fixed rate risk transfer vs floating rate (SOFR). Prevalent in Dealer-to-customer market. 
This represents 4% of D2D trades.    
1. Clarus FT
---
Disclaimer: This communication and all information contained in or attached to it (including, but not limited to market prices/levels and market commentary) (the "Information") is for informational purposes only, is confidential, may be legally privileged and is the intellectual property of one of the companies of TP ICAP plc group ("TP ICAP") or third parties. The Information is directed to Eligible Counterparties and Professional Customers only and is not intended for Retail Clients (as each term is defined by the rules of the Financial Conduct Authority or equivalent). The Information is not, and should not be construed as, an offer, bid, recommendation or solicitation in relation to any financial instrument or investment or to participate in any particular trading strategy. The Information is not to be relied upon and is not warranted, including, but not limited, as to completeness, timeliness or accuracy and is subject to change without notice. All representations and warranties are expressly disclaimed. Access to the Information by anyone other than the intended recipient is unauthorised and any disclosure, copying or redistribution is prohibited. The Information and any opinions expressed within it are not to be relied upon as authoritative, or taken in substitution for seeking your own advice or the exercise of your own commercial judgment. The Information has no regard to specific investment objectives and does not comprise investment advice. The Information is not, and should not be construed as, an offer or solicitation to bid, sell or buy any product, investment, security or any other financial instrument. TP ICAP does not promote any of the contents of the Information. TP ICAP does not make any representation or warranty, express or implied, as to the accuracy, completeness or correctness of the Information, which is subject to change without notice. TP ICAP does not accept any responsibility or liability for any direct or indirect loss or damage, howsoever caused, arising from or in connection with the Information. In no circumstances may the products referred to herein be used for any purpose that would cause it to become a benchmark for the purposes of (a) the Regulation (EU) 2016/1011, (b) the UK version of Regulation (EU) 2016/1011 as on shored via the European Union (Withdrawal) Act 2018 (the "UK Benchmarks Regulation") (c) other applicable benchmark regulation and/or (d) the IOSCO Principles for Financial Benchmarks in each case together with the relevant technical standards, whether by the products referred to being referenced in a financial instrument, financial contract or investment fund or otherwise. ("Prohibited Use"). The terms of this disclaimer are governed by the laws of England and Wales. For further regulatory information and our terms of business, please see www.tpicap.com. ©TPICAP 2023